Digital electric meter manufacturer india
manufacturing
products
Quality products with unmatched commitment and services
AUTOMATIC POWER FACTOR CORRECTION (APFC) CAPCITOR PANEL.
We design and manufacture Low Voltage, Medium Voltage and High tension Power Factor & Power Quality Solutions (Indoor & Outdoor Capacitor Panels etc.) as per customer requirements.


LV Capacitor Panel
The LV PFC system can be offered with contactor based / Thyristor based (Please refer our product Thyristor Switch Module for further details). We customize the products and design as per the study conducted by us or by others as per recommendations.

Why Capacitor Panel?
Losses Reduce (I²r)
Demand Reduction.
Power Factor Penalty will be avoided.
Typically the power factor improvement will have a Return of Investment (ROI) of 9 months to 11 months. If Bonus or kVAh metering is adopted by EB and then the ROI will be around 2 to 3 months.

MV Capacitor Panel
We also have MV PF correction systems with: Fully enclosed solution for indoor application and Pole mounted type for outdoor solution with all the required accessories.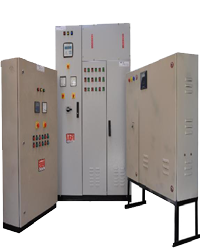 THYRISTOR SWITCH MODULE
The comprehensive range of Thyristor Switch Module manufactured by us are suitable for switching capacitors, eliminating inrush current and for fast power factor compensation. We offer the Thyristor Switch Module with compact size & easy installation.
Why use Thyristor Switch Module?
Conventional PFC systems consist of a Power factor controller and a set of power capacitors for power factor correction that are connected to the net by Electromechanical Contactors. The reaction time between the particular switching is in the range of > 60sec due to discharge time of capacitors and thus influences the response time of the entire panel.
Thyristor Switching offers high speed power factor correction to compensate the reactive power of any load or equipment requiring P.F. correction within a very short time (within 2 cycles i.e. 40mili secs).
Thyristor switching allows infinite number of switching operations because there is no contactor switching.
High inrush currents being one of the major problems while switching shunt capacitors with conventional contactors, these are eliminated with Thyristor switches due to ZERO CROSSING SWITCHING. Here, the capacitors are connected during zero crossing of the sinusoidal wave and therefore no inrush currents are caused.
Where Thyristor Switching Is Required?
Any kind of fast fluctuating load requires APFC Panel using Thyristor Switch, refer below for some of the examples where Thyristor Switch Modules are necessary.
Welding/ Spot welding equipment.
Presses
Cranes
Lifts
Wind Turbine Generators
Following are the features of Thyristor Switch Module:
Easy installation: Installation is identical to contactor.
Due to "full wave switching" no harmonics are generated.
Very fast reaction time: <7 milliseconds.
Manual Operation is possible.
Compact and modern design.
FEATURES:
| | |
| --- | --- |
| TECHNICAL DATA Voltage | 3 x 440V, 50Hz AC |
| Activation | 10 – 24V DC |
| Switching Time | Approx. 5ms + Response time of APFCR |
| Output | Cascading output for switching an additional module |
| Power Circuit | Connection: 2 x two phase (R,B) direct with suitable cable |
| Protection (Optional) | Over Current, Phase failure, Over Voltage, Under Voltage. |
| Model | ITEMA2-5/10/15/25/50/75/100 |
| Fuses | Electronic fuse "Super fast |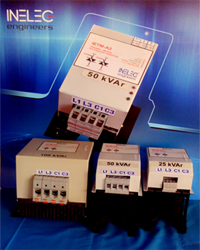 Electronic Street Light Controllers
Power Saving Electronic Street Light Controllers
shortly known as SLC is one among our state-of-the-art power conservation product. It is the most efficient solution to our street light controlling requirements as it not only efficiently manages ON/OFF operations of street lights (using Real Time Clock (RTC) through Astronomical Timer) and can reduces power consumption by 25-30% through a host of salient methods.
Street Light Controllers Manufacturers in India
Street Light Controllers Manufacturers
Why SLC?
In the current situation of ever demanding power consumption, power conservation should stand as a primary focus as
Every unit saved is every unit produced
Additional power generation can increase global warming threats.
Major Benefits :
TROUBLE FREE LONG LIFE – As the SLC operates through electronic contact less switches, it can be trusted to work at dusty and sooth filled environment with zero troubles. Further, the product has conformal coating to insulate against dust and sooth.
LONG LOAD LIFE – The controller can handle input voltage range between 170V to 290V, while maintaining a constant output voltage. As a result it can increase the life span of the Lamps.
POWER SAVING – The controller provides two key functions that enhance the power saving against our competitors It can be programmed to turn On/Off the street lights at pre-selected time, therefore nullifying faulty manual interventions in doing so.
OPTIONAL GPRS CONNECTIVITY - Will help in identification of any malfunction and allow for an un-interrupted service of STREET LIGHTING SYSTEM.
Below are the following advantages of our equipment::
Due to dust & sooth, the contactors keep failing; hence our system overcomes this problem.
The equipment has built in intelligence to handle the switching of lights and optimizes,the operations depending on the regions seasonal light requirement.
If the system is properly designed without over loading etc. the equipment has long life and also maintenance is fast.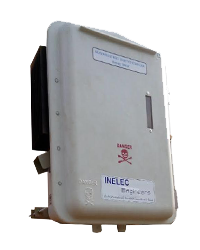 DC Power Supply System:
The DC power is required for un-interrupted operation of many Electrical Equipments like Switchgear coils, Control & Relay operations, Telecommunication equipments etc. This requires a battery and a Float - Cum - Boost Charger - which supplies to load and when a power fails the battery take over from the charger.
We offer a high efficiency Switched Regulator type Chargers. The product has a Transformer, a Diode Rectifier and filtered and Switched Regulator using MOSFET/IGBT controlled regulation. It is electronically protected against overloads and short circuits. It has Low ripple content up to 0.1% r.m.s by suitable filter. Excellent line and load regulation, high efficiency. Reliable, Low noise and Trouble –free operations Compact design with integral DCDB (customized).
Advantages of Inelec make Battery Charger
Higher efficiency compared to SCR Controlled Rectifier type (>85% compared to 75% of SCR type.)
Low Component count with single card solution.
Stable out-put to load and battery.
Automatic controlled battery charger.
* Further we can customize the product as per the customer requirement.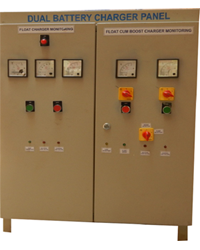 HYBRID POWER SUPPLY SYSTEM (Under Development)
HPS is capable of catering load requirements of 210A continuous/720AH for 48V telecom equipments.
5/10KW hybrid charge controller with solar source and EB/DG source power is managed by a Micro controller based system with RS485.
HPS system consists of a charge control unit, Modular Rack (for placing SMPS) and control and display unit called DSCA.
No. of SPV panel;s can be connected to get a desired power.
Charge controller and SMPS are fully protected against the low voltage surges.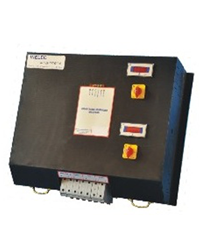 Electronic Capacitor Switched Motor Soft Starter
INVAR is the project name.
By switching ON Capacitor during MOTOR starting, the leading kVAR is generated to compensate the tremendous lagging kVAR due to inductive current.
Careful inspection shows that the INVAR is applying more than the reactive VARs necessary to offset the inductive VARs generated by the motor.
VARs serve to offset the additional real power drawn during the motor start.
* The Project is Under Development.
Test Data

our aim
To promote good products manufactured by companies who are not represented, develop and supply products which complement the present product lines.

Inelec
Manpower
Engineers in Marketing and sales, after sales and New Product development. Executives in Sales, Deliveries and after sales follow ups. Team of technicians for wiring and assembly. A good secretarial and Accounts team.

our Machineries
Drilling Machines, Bus Bar Bending Machines, Cutting Machine, Bench Vices, Heat Shrinkable Sleeve Heaters, Hand drills, Jigsaw cutters, Blowers, etc.
Started in October 1997.
Motto: "Quality products with unmatched commitment and service."
AREA: 2500 Sq.Ft.
Operation: Any-where in India & Abroad.
Customers: All types of industrial customers.